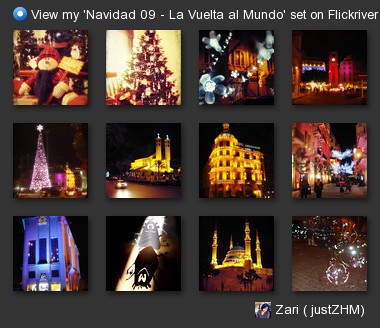 This month in La Vuelta al Mundo the theme was "Christmas in my city"…so here are a few photos of Beirut as well as one of my (not so photogenic) Christmas tree decorated with the paper creatures I had mentioned in a previous post…hope you enjoy them. *Don't forget to pass by Jackie's blog to see wonderful Christmas photos of Montreal and the world. / Este mes en La Vuelta al Mundo el tema fue "La Navidad en mi ciudad"... así que aquí les traigo algunas fotos de la navidad en Beirut; como verán no son muchas; primero, porque esta ocasión se celebra en muy pocas zonas de la cuidad y segundo porque mi camarita se porta muy mal de noche! Pero espero sirvan para darles una idea de lo lindo que se veía el casco antiguo este año. También les traigo una foto de mi árbol lleno de los "bichitos" de papel de los que les había hablado antes, pero como temía, no salió muy fotogénico. *No se olviden de pasar por el blog de Jackie para ver las hermosas fotografías de las fiestas de Montreal y otros lados del globo.
Happy New Year, my best wishes, and bear hugs to everyone!
Feliz Año, mis mejores deseos y abrazos de oso para todos!